General Information

Website Link | Blog run by Emily Pearlhouse
About Me Page
From the About Me page - "Hello there,
Welcome to my blog!  My name is Emily Louise Pearlhouse, and Origami Forward is where I keep my daily musings and interesting finds. I love motivating and inspiring others, and I absolutely love origami. In fact, I keep a channel on YouTube where I share fun and interesting facts about origami while teaching how to fold popular and interesting shapes. My goal is to change the world, one fold at a time.
I also love working with kids. I work at the Center of Autistic Robotic Inteaction (CARIN), where I get to assist kids and young adults in the Autistic spectrum learn better communication skills. I love the notion of using technology to help people in need. I look up to Alan Turing, Ada Lovelace, Limor Fried, Maja Mataric, Cynthia Breazeal, Daphne Koller, and other women of computer science working in the field of AI.
I hope you like it here, and you stick around to follow my journey online. Thanks for stopping by!
– Emily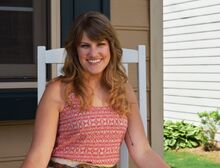 List of Blog Posts
Diary Post
Monday Muse
Origami Tutorial
Quote of the Day
General Notes
Blog started May 5
Works at a center dedicated to aiding autistic young people with their communication skills through the usage of robotics
inspired to develop an app to further help with their learning progress at home. This app is just an idea that I hope I can eventually bring to life. I can't exactly code, so I've started coding classes.
has no car
likes Orchids
likes being outdoors
Regarding work: By definition I am a floater: I go where I am needed.
Boss had her go to a gala on June 13 where she runs into Charles J. Conde, named Atlanta's most eligible bachelor by the most recent issue of 'Mediation Today'!
June 2 - sent an email to a potential sponsor and made the mistake of sending it directly to a higher-up of the company who then promptly informed her that the tone/language of my letter was inappropriate and denied our funding
Baking dozens of batches of cookies for my friend's potluck. 
First tutorial video is making a butterfly
Cynthia Breazeal came into the Center today to tour the labs and do a talk about the evolution of robotics 
Had the privilege of speaking with Maja Mataric on the phone, trying to get her to work at Center
POsted July 27 - I'm keeping an eye on all the buzz going around online surrounding the sentient supercomputer that has reached the Internet. We are living in such amazing times!
August 3 - Emily writes about finding out One of Abby's closest friends, scratch that, her ONLY friend has recently passed away. 
I've been meditating and gardening instead. Connecting with the earth
Seriously, me?? Cupcake baking, orchids loving, origami folding, coding newbie me?