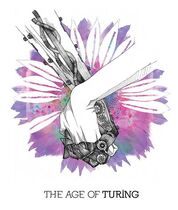 Welcome to the Age of Turing Fan Wiki!!!! This wiki is made by those following the Age of Turing. Please help build this database of information as we follow the people involved. The more that help, the stronger this reference source becomes, so please help out, any and all help welcome!!
What is the Age of Turing?
ABOUT THE PROJECT
We are living in a time in which many of Turing's predictions have come to pass. The legacy of his work extends vastly through the field of computer science, including cryptography and artificial intelligence. He is the quintessential unsung hero to all of us misfits who dream of what our digital future still holds for all of humanity.
This project is an attempt to honor Turing by telling the story of his legacy and how his work has affected millions all over the world, from how robotics are currently helping autistic children, to how minorities are being empowered to transition from outcasts to technological entrepreneurs. (from their official site )
Promo videos
---