Description
Computers will be denied! AI should NOT be allowed to take over the world!!
They seem to be a group determined in stopping AI progress at all cost. Unfortunetly they dislike technology so they lack knowledge in it (for example using Twitter or a windows computer). They claim to run an animal shelter and they don't live in some cabin with no electricity (but might have some members that go hiking and hunting and end up using cabins like that.
They aparently brought the dislike of Center of Autistic Robotic Interaction that has attacked their website. They seem to be researching the Morai Institute as they beleive something bizarre is going on there related to AIs.
Website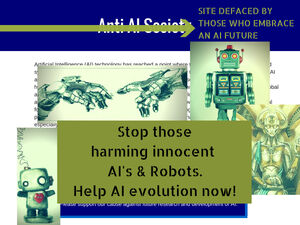 Their website is currently presented as being hacked / defaced and has the following message at the bottom
Our site has once again been defaced by AI supporters. We are officially giving up on the online form at this site, no matter what we try they deface it with the same picture. to help us please follow us at @antiaisoc to support our cause against future development of AI.
The image present in there is called Anti-Anti-AI-Society and contains some interesting EXIF information.
In the EXIF the field for keywords has this text - gros tobnirac .  This reversed give out carinbot sorg which is carinbots.org the site for Center of Autistic Robotic Interaction.
This website can also be found in the watermarks in the image.
The other piece of information in the exif is the following location 
| | |
| --- | --- |
| Country | Rzeczpospolita Polska |
| State | wielkopolskie |
| City | Poznan |
Poznań is one of the biggest cities in Poland. The city population is about 550,000. [1]
Timeline
Extra Notes
Twitter Conversations of AntiAISoc
Images