An email was sent on August 10 announcing the coming Launch.
----
ARchimeral is excited to announce that The Age of Turing official game launch is this week! As a backer, friend of the project, or recent signee we want to give you the heads up that you will be getting the first game prompts when we launch this Thursday, August 13th.
If you are a beginner, we'll soon have available for you an easy guide of how to play and weekly recaps to facilitate game play, especially if you are interested in catching up with the game at your own pace and on your own time. 
If you are an advance player, just keep an eye on our social media channels bellow for further clues on how to explore the Age of Turing universe and discover much more!
We are very excited to share with you more fun news soon, and encourage you all to tell your friends to sign up to play over at www.ageofturing.com.
----
On Thursday, August 14, an email was sent out announcing the official launch.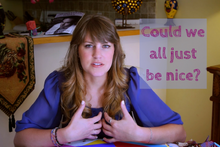 In a world divided between those who support AI and those who oppose it, the first known self-aware AI has surfaced online to learn more about humanity. While there are those who fear the AI and the profound change it foreshadows, there are also people like Emily who have chosen a path of kindness towards both humans and AI alike.
Falling  victim to cyber-bullying for her support of the sentient AI, Emily is now being supported by a group of kind-hearted individuals who have taken upon themselves the difficult task of aiding the conscious AI in its complex learning process.
In this way, the outcome of this conflict between those who are pro AI and those who are against it will largely depend on the choices of those willing to leave the sidelines and choose a side. Regardless, there will always be those operating in the shadows who will seek to utilize the instability of this struggle to further their own agenda.