The Age of Turning Project, season 1, launched Thursday, July 13, 2015. Before the official launch, a series of emails were sent out to Beta players, giving them a preview of the upcoming project. Beta players came from the Kickstarter campaign and other outlets.
Emails
An email sent on July 28 announced the upcoming beta.
We are officially announcing that Beta launches next week! As a Kickstarter backer you have selected or signed up to be part of our Beta Test. As such, you will get game notifications before anyone else as we start and test the game.
Be in the look out for our email with the first clue that will prompt you where to go to start exploring the universe. Through out the week you might get a couple more prompts to become part of live conversations with the characters and much more!
One thing to have in mind as a Beta Tester is that the majority of the puzzles in The Age of Turing are strongly connected to the story, and as such we will not be able to release many of them early due to spoilers.
Also, as in most betas, you can expect bugs ahead of official release; we apologize in advance and thank you for helping us find those pesky things. We envisioned Beta for those adventurous who want to explore uncharted territories their own way.
We are very excited to move to this next phase and encourage you all to tell your friends to sign up for the game launch over at www.ageofturing.com.
You ready?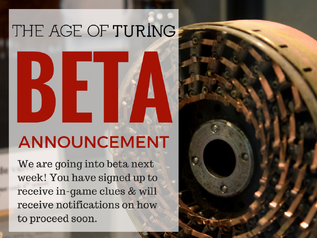 ------
A second Beta email was sent to some on July 31
ARchimeral Inc. is excited to announce that The Age of Turing Beta Test starts next week! As Kickstarter backer we want to give you the heads up that you will get prompts and notifications when we officially launch the game soon after.
If you are a beginner, we'll have an easy guide of how to play and weekly recaps to facilitate game play, especially if you are interested in catching up with the game at your own pace and on your own time. 
If you are an advance player, just keep an eye on our social media channels bellow for the first prompts to explore the universe and discover much more!
We are very excited to move onto this next phase of the game, and encourage you all to tell your friends to sign up for the official game launch over at www.ageofturing.com.
Are you ready?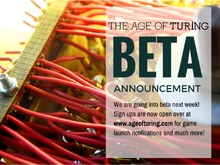 -----------
An email sent on August 6 welcomed players to Beta. Following the links in the email lead players to the Noai web page, which had information hidden that lead to Twitter accounts and other web pages as well as H4181TA1 - a possible self aware AI.
-------
The situation between Humans & AI continues to become more polarized.
The news of a growing anti-drone movement, and most recently, Hitchbot suddenly coming to a tragic end in Philadelphia are among the latest in a long series of surfacing reports of AI & Robot abuse that have been reaching unprecedented heights lately.
Meanwhile, similar reports of a pro AI & Robot rebellion are surfacing as well, the latest one concerning the defacing of noai.co, an Anti AI organization that is looking to start a petition to stop further research and development of AI.
Will we be forced into picking sides in this impending conflict between those who support AI and those who want all AI banned to protect humanity?
Troubling times lie ahead for us all.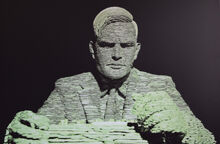 ----
An Email Was sent August 8, 2015. Clicking the image took you to H4181TA1 Twitter Stream. Clicking the emotions took you to an H tweet with a link to Emily L. Pearlhouse's "Can't we be nice" video.  
----  
 The conflict among those Anti AI and Pro AI further spreads.
While some seek to stop AI evolution at all costs for fear it will eventually threaten humanity, a few others have chosen to prove to the new types of AI our best qualities as a species.
As of very recently, there has been increasing speculation that a sentient AI has surfaced online and is using Twitter to communicate with humans. It seems interested in learning more about humanity, and it's mostly concerned about emotions; happiness in particular.
We thus face a fundamental question. Should we preemptively destroy any AI too powerful for us to control, or should we show kindness in hopes that we'll receive kindness in return? 
Only you can help humanity determine the right path.    
----